This blog is the third post in the series about
Big Island and Automobiles
. We covered driving in Hawaii and choosing the right car in the earlier posts, where we talked about the caveats and specifics of Big Island's motor life. But for many folks, once they decide to buy a home on Hawaii Island, the next big question is what to do with a car. Should I ship my vehicle or buy one here, on the island? My team and I explore the options and cover the pros and cons of doing both.
Ship or Buy?
Usually, it all comes down to cost and ease of service. For obvious reasons, the cars on the island are more expensive since they have to be shipped here, and inventory is not always available. Even with the established island brands, the stock varies greatly, so if you decide to purchase your vehicle here, we recommend contacting the local dealer and pre-ordering the model you want. Sometimes it may take up to 45 days to get it. Trucks and SUVs are the most popular cars on the island and tend to be quite a bit more expensive here. As for brands, Toyota is the favorite, and their vehicles usually keep high resale value on the island. (If you are not sure which car is best for the island, read our previous blog
here
).
The shipping cost varies between $1000-$2000 per vehicle, depending on where it ships from and which company you would use (we will explore the shipping process below). You may also consider buying a car on Oahu, with more dealerships and inventory options, including quality pre-owned vehicles that are not always easy to find here. To ship a car from Oahu would cost about $500 and take less time as well.
It is worth noting that recent glitches with supply chain and shipping delays may present a certain risk, and if you decide on shipping, it is better to plan way in advance.
From my experience, many people choose to ship their cars to Hawaii, so we advise on how to do it next.
How to Ship?
Shipping a car to Hawaii is not as complicated as you may think. Many reputable auto transport companies like
Matson, Inc.
and
Pasha Hawaii
have been shipping cars, trucks, motorcycles, and other vehicles to and from Hawaii for many years.
In general, there are a few simple things to keep in mind as you plan on bringing your car, truck, or motorcycle to Hawaii Island:
As mentioned above, rates among the various shipping services are competitive, and shipping costs are between $1,000-$2,000 per vehicle on average.
From the West Coast, companies generally ship from Los Angeles, Oakland, Seattle, and Tacoma.
Wherever you decide to ship from, if you live on Hawaii Island, you'll want to send your car to Hilo Harbor.
Transit times will vary from 9 to 24 days from port to port.
No company permits personal items or household goods shipped inside vehicles.
Some companies ship your car to Hawaii in enclosed containers. Some park vehicles on the open-air decks, and some offer you the option to choose.
Most shippers provide online tracking of your vehicle during shipment along with other customer service assistance.
Most offer military discounts.
Preparing to Ship
Plan on shipping your vehicle one month or more (remember the shipping delays!) before your preferred delivery date in Hawaii.
Gather All Your Paperwork
The general list of required documents is below, but be sure to check with your shipping company for details.
Valid license and current registration for the vehicle
Proof of ownership, title, or bill of sale
For leased vehicles, authorization from the lien holder
Information relating to the person who is responsible for picking up the vehicle
Bill of Lading (provided by the shipper after inspecting the car)
Current safety inspection certificate
Prepare Your Vehicle
Make sure your gas tank is no more than one-quarter full. Electric vehicles should have fully charged batteries.
All tires should be fully inflated.
Brakes, including the emergency brake, need to be fully operational.
Check for, and fix any leaking fluids.
Be sure that all windows are fully intact (no cracks) and can be completely closed.
Take all personal possessions out of the vehicle (except installed infant car seats, spare tire, jack, floor mats, and jumper cables).
Disable your car alarm, or be sure to transfer the remote when the car is picked up.
Wash and wax your car. This is required before it receives a USDA inspection at the shipping point. Some shippers suggest a coat of wax to protect against the salt air, even if shipping in an enclosed container.
On the shipping date, you can drive your car to the port yourself or arrange for a pick up by the shipper. Then, after a quick inspection, you'll hand off the keys and remote if applicable.
Within 30 days after you arrive in Hawaii, register your vehicle. You may choose to obtain Hawaii Driver's license, but the state does not require it. You can drive with your current license if you wish.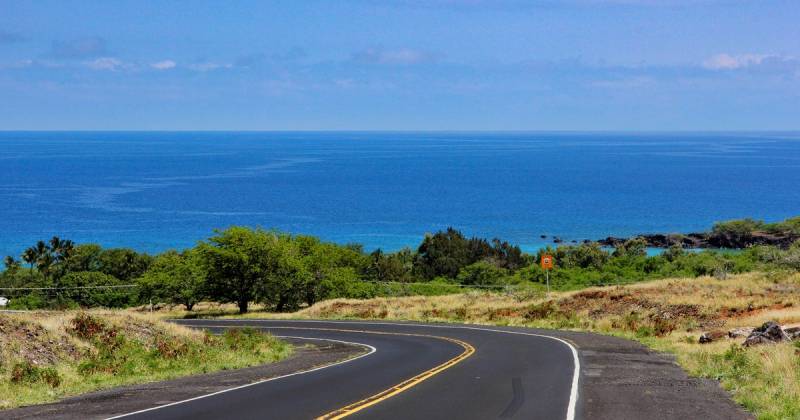 Whether you decide on buying or shipping, you will love cruising Big Island in your favorite ride. Just remember to be safe and drive with Aloha!
Ta Da!
Aloha,
Jan
For the latest COVID-19 travel-related information, click
here
.