"The cost of living is so high!"
It might be the most vocalized concern among family, friends, and coworkers when someone announces that they are moving to Hawai'i. And on paper, these concerns are not unfounded.
The cost of living in Hawai'i is
96.3% higher than the national average.
The median home is valued at around $660,000 and it's not uncommon for a two-bedroom house to cost around $1,895 per month. Additionally, Hawaii's average livable wage is currently $61,000.
Yet, a Hawaii Tourism Authority survey reports that last year, the daily number of intended
new residents was up 20%
, which is an average of over 180 people compared to an average of around 150 people in 2019.
If the cost of living is "so high," then why the mass relocation to the state? And for that matter, how do so many locals continue to live comfortably in Hawai'i, year after year?
If you're interested in discovering what we've learned as Hawai'i residents about the cost of living in paradise and local tips for offsetting the cost of living, then read on!
1. Redefine cost of living
Cost of living is defined as the cost of maintaining a certain standard of living. And cost of living calculations are used when comparing the cost of maintaining that specific standard of living in various geographic areas.

The implications are that you'll have to lower your standards if you move to a region with a high cost of living. This, however, is an inaccurate assumption.

Life moves at a slower, less hectic, and healthier pace here in Hawai'i. Family, or ohana, is a priority. Nature and culture are valued and celebrated. And did we mention how gorgeous the weather is? These are just a few of the factors that land Hawai'i the No. 1 spot among the states in several

quality of life

surveys every year.

For those of us who traded in those old living standards for a new set, the improvement in quality of life alone offsets the cost of living!
2. Adjust online shopping habits
Hawai'i is a staggering 4,000 miles from Japan and over 2,300 miles from the Mainland U.S. That's a long way for those online orders to travel. As such, many new residents pay a pretty penny to maintain their former shopping habits during their first year in Hawai'i.

Can't find your favorite leave-in conditioner in a grocery store or specialty market here? You can likely find it online. But many companies won't ship to Hawai'i and those that do may charge a hefty shipping fee.

Eventually, most of us become fed up with paying more for the shipping than the product itself, and we make peace with a life without that product we were convinced we couldn't live without. The best part about these "inconveniences" is that they force us to find Hawai'i brands offering similar products crafted from locally-grown ingredients. As a result, we discover an array of product lines whose quality far surpasses those mainland staples!
3. Embrace Amazon Prime
For those times when you do need to shop online, Amazon Prime will quickly become your best friend, as there are no additional costs to ship to Hawai'i. The only setback is the time it may take for you to receive the items ordered. There are no Amazon distribution centers in Hawai'i, so don't be shocked to see five to seven-day shipping times for Hawai'i orders.

Even items marked as "out for delivery" may not make it to the mailbox for another 24 hours (but it isn't hard to find better things to do with that time than stalking the FedEx or USPS driver)! There are more reasons to love Amazon Prime if you live on Oahu or Maui and shop at Whole Foods Market.

Prime members that shop at Whole Foods receive an extra 10% off hundreds of sale items throughout the store, plus up to 20 exclusive weekly deals, which certainly helps to even the playing field when comparing Hawai'i prices to the Mainland. Which brings us to.
4. Stock up
Maui, Oahu, Kauai, and the Big Island, all have at least one Costco, so if you don't already have a Costco membership, be sure to join! The trick with Costco is to stock up on toiletries, cleaning supplies, canned goods, and frozen foods.

Plan to make a monthly trip there for toilet paper, toothpaste, chicken broth, olive oil, salsa, saimin (ramen noodles), frozen veggies, and all those other staples that have a longer shelf life. Since local families know that buying in bulk adds up to savings, many of us have an extra refrigerator or freezer for storing all those frozen items with prices no one can pass up. And fill up the gas tank while you're there too, as gas prices seem to be more reasonable at Costco than elsewhere.

For those essentials that you need in between Costco trips, turn to Target. The retailer has its own loyalty program, Target Circle, which is free to join. As a Target Circle member, you'll get access to hundreds of deals, and earn 1% every time you shop and enter your phone number or membership number at checkout. The next time you shop, you can cash in on those Target Circle earnings.

And don't forget a reusable bag or two — you'll receive a five-cent discount for every bag you bring.

Looking to get the most bang for your buck? Compare the price of appliances and big ticket items in store to those on Target.com. Often the online price will be less, and if you point that out at checkout, the cashier will honor the online price and you'll keep a few more dollars in your pocket!

No matter where you shop, it helps to have an open mind. Be intentional about buying produce that is in season and food that is on sale. Milk, cereal, and sliced bread rarely fall into either category, while various fruits and veggies generally do. Aloha, avocados in November!
5. Bag it
Many other Hawai'i stores will offer points that can be redeemed monthly. Some points are earned simply by providing a phone number at checkout, while others are rewarded based on the amount of times you bring that reusable shopping bag along on your grocery run.

If you are moving from another state to Hawai'i and are already in the habit of shopping with your own bag, you may still opt for plastic bags from the store every once in a while, later using them in small trash cans around the house. It's a thrifty trick that won't work as well here, since Hawai'i County has banned all plastic shopping bags at checkout as a measure to protect the environment.

Before you shell out money for garbage bags, consider using the disposable bags from your produce. Found in most produce sections of Hawai'i supermarkets and grocery stores, they fit perfectly inside small trash cans and many of these are even biodegradable.

Speaking of bags, consider brown-bagging your lunch. Going out for lunch every day tends to wipe out any food budget fast, so make it a point to prepare dinners that are on the larger side so you have leftovers to eat all week. While you're at it, why not invest in a fabric lunch bag, which produces the least amount of waste and is easy to wash?
6. Shop local
Since many of the goods consumed on the Mainland have to be shipped to the islands, it's no wonder that groceries can cost substantially more. In addition to avoiding the cost of shipping and the weeks of waiting for an online order, shopping local allows you to play an integral role in boosting Hawaii's economy.

Year-round farmers markets are prolific in Hawai'i, selling exotic fruit, garden vegetables, coffee, honey, fresh-baked bread, reef-safe sunscreen, and more at affordable prices. Depending on which town or city you choose to call home, you may even find roadside fruit stands and neighbors selling their hens' eggs in their driveway.

Inevitably, you will need to head to the grocery store for the food and goods you can't get from the farmers' markets, and keeping your supermarket runs to a minimum will be a penny saver! Aim for one trip to the grocery store per week and choose Hawaii-based retailers and products if possible. A weekly trip may require a little more planning, but fewer grocery runs = fewer trips to the gas pump (and less time in traffic if you live in Honolulu)!

Instead of shopping with a meal plan in mind, base your purchases on what's affordable and accessible. This approach saves money and inspires creativity, as meals are based on what you come home with.

Whether you settle on Hawai'i Island, Kauai, or somewhere in between, give this shopping technique a try and you'll discover fresh, new flavors and dishes that you never considered preparing before!
7. Live like Tutu
Did your Grandma (or Tutu, as we refer to her in Hawai'i) have her own vegetable garden? Make her own pasta from scratch? Or maybe she cut coupons and made you help!

Although some may suspect they are extinct, coupons are alive and well-loved in Hawai'i. An effective approach to getting your hands on some extra savings is to ask your cashier about how to receive coupons in the mail or get on the email list for deals of the week.

You can also live frugally by starting a small garden that Tutu would approve of. Few things are as satisfying as growing your own delicious herbs, so say goodbye to the days of buying basil, green onions, and arugula.When a recipe requires one of these herbs, just snip a leaf or green top off one of your own plants. It's also easy to grow everything from tomatoes to papayas in the Hawaiian sun, and all you need is a patch of dirt or a few containers and some potting soil.

Like Tutu, most local families have mastered the art of repurposing. Keep empty glass sauce and salsa jars out of the dump and give them a new life as convenient containers. And trade in any beverage bottles or cans at the transfer station, pocketing the change for some fun money!
8. Keep it simple
Here in Hawai'i, we enjoy the abundance of free experiences and adventures that our islands have to offer. It's not difficult to have fun without spending a cent (save the gas you put into your vehicle).

We explore our many county and state beaches and parks. Accessible spots for a refreshing (and free) swim or snorkel with sea turtles and tropical fish abound. And simply eating dinner on the lanai (Hawaiian porch or patio) while watching the sunset is a priceless way to wind down at the end of the day.

Now that the islands are lifting many of the pandemic-related shutdowns, there are surf competitions, rodeos, and canoe regattas to spectate once again. And for the price of a bottle of wine and some snacks, it's easy to enjoy a night of Hula and music at one of the free, ocean-side venues.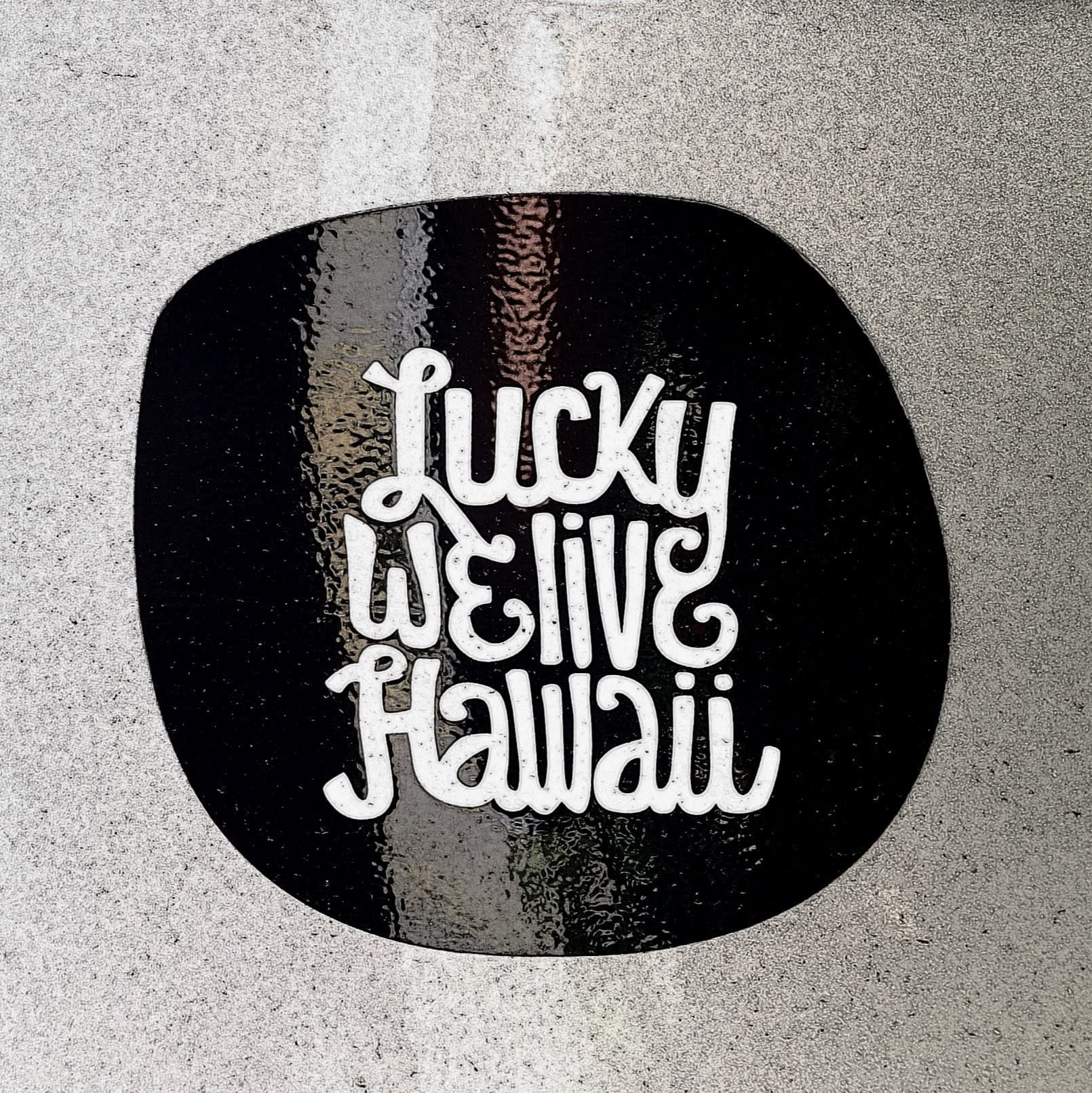 "Lucky we live Hawai'i!"
It's a saying seen on bumper stickers, shirts, and hats. It's a popular hashtag on social media. And during the peak of the pandemic, it became much more than a catchy phrase to many of us who call the
state of Hawai'i
home.
While the world was sheltering in place, generally behind closed doors, most of us were able to walk outside, feel the sunshine and tropical breeze on our faces, breathe in fresh air, and gaze at breath-taking rainbows.
If we've learned anything about the cost of living in Hawai'i, it's this: It's just a number. And with some creativity and resourceful habits, that number can change!
In the process, don't be surprised if you change too. Your habits become healthier. You spend more time outdoors. You slow down and appreciate your beautiful surroundings with your loved ones. And your quality of life improves.You may even put a "Lucky we live Hawai'i" decal on your bumper!Have a good tip for offsetting the cost of living in Hawai'i? A question about affordable living on Oahu, Hawai'i Island, Kauai, or Maui? Feel free to leave a comment or email us at
[email protected]
.